Anglesey World War One projects given more than £20,000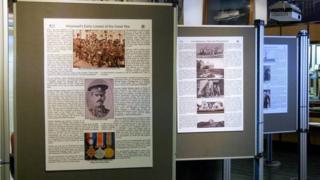 Three World War One projects on Anglesey have been boosted by more than £20,000 in lottery grants.
The war memorial clock in Gwalchmai can now be repaired thanks to £10,000 from the Heritage Lottery Fund (HLF).
St Mary and St Nicholas Church in Beaumaris has also received £10,000 to fund events, and a further £3,700 has gone to Holyhead's Maritime Museum.
Jennifer Stewart, head of the HLF in Wales, said: "We want to help people to commemorate the impact of the war."
She added: "It's excellent to see so many groups getting involved in Anglesey, with people of all ages playing their part to ensure that the sacrifices made a century ago are not forgotten."
The Heritage Lottery Fund grants
£10,000 to Trewalchmai Community Council for restoration of war memorial clock in Gwalchmai
£10,000 to St Mary and St Nicholas Church for Beaumaris and World War One projects
£3,700 to Holyhead Maritime Museum's 'Holyhead during the First World War' project
The memorial clock at the heart of Gwalchmai, which was funded by parishioners in 1926, will now be brought back to working order again.
Schoolchildren are also to research the history of the clock and its connections to people who still live in the village.
Thanks to their grant, St Mary and St Nicholas Church will now host a series of memorial activities including a Beaumaris and Anglesey during the war exhibition, concerts, drama performances, poetry readings and conservation works.
Holyhead's Maritime Museum is to use its money to expand its existing collection of memorabilia related to the town's role in the conflict.
Rhun ap Iorwerth, assembly member for Ynys Mon, said: "It's inspiring to see so much interest across the island in commemorating the First World War in so many different ways."