Isaac Nash's family attend memorial service at Aberffraw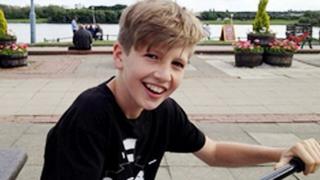 More than 150 people have attended a memorial service for a schoolboy swept out to sea while on holiday on Anglesey.
Isaac Nash, 12, from Huddersfield, was in the water at Aberffraw beach with brother Xander, 10, when they got into difficulty on 29 August.
Xander was saved but Isaac was swept away despite attempts to grab him.
His parents, Adam and Zoe, and siblings attended the service at Aberffraw's St Beuno's Church on Sunday.
They were joined by so many members of the community some were forced to stand in the churchyard.
The Reverend Emlyn Williams told the congregation Isaac's family wanted the service to be a celebration of the schoolboy's life and to thank the community in Anglesey for their help in trying to find him.
The search for Isaac was scaled down earlier this month.
Since the tragedy more than £11,400 has been raised in memory of the sport-loving youngster.
Organisers hope to raise £100,000 to build a skate park near Isaac's family home in Huddersfield.