Drama recounts life from William Bulkeley's diaries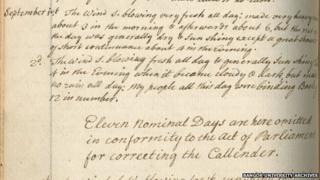 Chapters from the life of an 18th Century diarist have been turned into a drama performance at his Anglesey home.
William Bulkeley or Buckley kept a meticulous journal about everything from scandals at the court at Beaumaris to the weather.
"His diaries provide a fascinating insight into rural life in Anglesey of the 1700s," said actor Wyn Bowen Harries who directed the drama.
Saturday's show took place at Brynddu, Llanfechell, and the nearby church.
Harries said: "William Buckley's life reads like a soap opera.
"His daughter married a pirate, his son died of alcoholism and his mother died falling under a ladder before being trampled by cattle."
He said the production related the highs and lows from the diaries, including everything from his descriptions of trips to Ireland, fairs and cockfighting.
The bilingual production, Mr Buckley o'r Brynddu was staged by theatre group Cwmni Pendraw drama group.
It started at his home at Brynddu and will involved a walk to a performance at Llanfechell parish church and a presentation at nearby Capel Libanus.
Members studied the diaries of Buckley (1691-1760) which are stored at Bangor University's Archive and have been transcribed and published online.
University archivist Einion Thomas said: "This theatrical event is a great means of celebrating the achievement of an interesting project which presents the diaries on a platform available for all to browse and read.
"As well as making fascinating reading, they represent one of the most important pieces of documentary evidence available to the historian on life in 18th Century Anglesey."