Mother bans daughter from playing with 'swearing' Barbie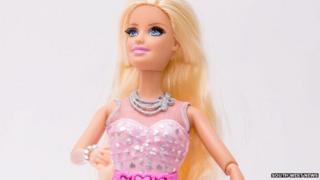 A shocked mother banned her daughter from playing with her talking Barbie because she said instead of talking about glitter and salons the doll was swearing.
Talina Evans, 25, from Caernarfon, Gwynedd, said her eight-year-old daughter's toy said: "What the -".
But the Barbie, whose phrases include "Amaze" and "I love a make-over", is actually saying, "Off the hook".
Toymaker Mattel said the dolls are for children to "enjoy and trust".
The doll is based on Barbie's web reality series Barbie Life in the Dreamhouse and was bought as a treat for eight-year-old Demileigh by her grandfather.
She had apparently spent weeks asking her mother for the £8 doll.
'It had to go'
Other phrases it says include "There is no substitute for glitter" and "To the salon".
A few days afterwards, Ms Evans' friend drew her attention to the phrase.
"We hadn't really paid that much attention to it or what it was saying," Ms Evans said.
"Then a friend of ours picked up the toy and I heard it... I was so shocked.
"We've taken it off her now. We just told her that the doll had been bad and was swearing so it had to go."
But Mattel, who make the doll, defended the toy.
"One of the 15 pre-recorded phrases is 'Off the Hook', this is a common expression used by the characters in the animated reality web series," said a spokeswoman.
"While the phrase may be heard differently by some who are not familiar with the show, all of Mattel's products are created for both children and parents to enjoy and trust."