Bangor's £45m Pontio arts centre postpone opening show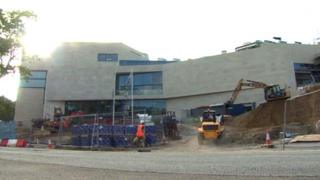 The first performance at Bangor University's £45m Pontio arts centre has been postponed for this year.
The opening production at Theatr Bryn Terfel, named after the opera star, was planned for 17 September.
Work on the venue in Bangor city centre began in January 2013 and the building was to open later this month.
Tickets for an opening gala concert in October, featuring Bryn Terfel, went on sale in August and were sold out within 15 minutes.
At present, that event is still due to go ahead, however BBC Wales understands that building programme will be reviewed over the coming days before a final decision on opening the Pontio centre is made.
The debut performance this month was to be "Chwalfa", based on the novel by T Rowland Hughes, by Theatr Genedlaethol Cymru, the Welsh-language national theatre.
'Tight schedule'
The university's pro-vice-chancellor, Prof Jerry Hunter, who is chair of Pontio's arts advisory board, said: "We sincerely apologise to our audiences, the local community, our partners, and in particular Theatr Genedlaethol Cymru, and we share their disappointment.
"We have been working intensively with the contractor over the last six months and the schedule has been tight, but we believed that it could be met. We have however today reluctantly concluded that it will not be possible to open as planned with 'Chwalfa'.
"The detailed discussions with the contractor regarding the opening date will take time. Only when these are completed will we be able to confirm the revised date."
As well as a theatre, the 10,000 sq m Pontio complex will house a cinema, restaurant, bars and a new students' union, which was demolished along with Theatr Gwynedd to make way for the new buildings.
It will also provide Bangor with a theatre after its last one - Theatr Gwynedd - closed in October 2008.