Presenter John Jones's apology for offensive Twitter remarks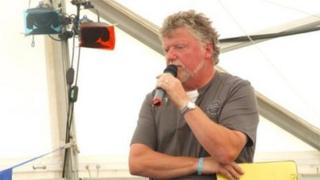 A Welsh country and western singer who hosts a BBC Radio Cymru programme has apologised for posting a comment on Twitter, which was offensive about the Pakistani community.
John Jones later deleted the comment which said there were "too many of them in this country" and apologised.
BBC Wales said the original tweet was totally unacceptable.
The broadcaster has written to him outlining the high standards it expects from its presenters.
A BBC Wales spokesperson added: "He accepts that fully and we're glad to see that he apologised.
"We have written formally to John Jones today outlining the high standards we expect from our presenters whether they are commenting on our own services or on private social media accounts as was the case here.
"He is clear that we expect him to adhere to these standards in the future."
The presenter said it was a spur of the moment comment which he regretted writing and deleted immediately.
John ac Alun have a Sunday night radio show on Radio Cymru and have also starred in several television show on S4C.