Wylfa nuclear power station owner seeks extension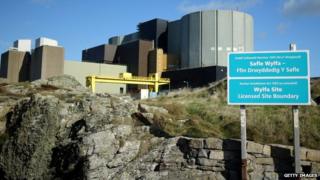 The decision on whether the Wylfa nuclear power station on Anglesey is allowed to remain open for another year is expected in September.
The Wylfa reactor 1, which opened in 1971 and is Britain's oldest, is due to close at the end of September.
Owners Magnox Ltd have asked the Office for Nuclear Regulation for permission to extend its use until December 2015.
A new £8bn replacement for the station has been provisionally approved by UK Energy Secretary Ed Davey.
Magnox Ltd sent a Periodic Safety Review (PSR) to the regulator at the end of 2013, justifying its continued use of the site.
The plant was closed for planned maintenance work on reactor one in January, resuming operations in July after the discovery of further problems delayed the restart date twice.
Public consultation on the new reactor to be built by Hitachi-GE UK is open until October.
Up to 6,000 jobs are expected to be created while the new reactors are built and around 1,000 for when the plant is operating.