Llandudno's Alice in Wonderland app delayed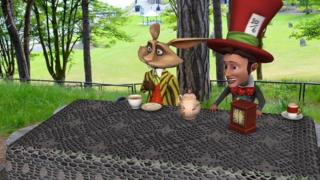 An app celebrating Llandudno's links with the Alice in Wonderland story has been delayed, after key figures for tourists to follow were altered.
The app was designed for tourists in Llandudno to use mobile phones to track characters from Lewis Carroll's book.
However, virtual characters on the app no longer recognise sculptures in the town after Conwy council painted them.
A council spokesman said the delay was "disappointing" but the models needed re-furbishing.
Llandudno has long-celebrated links with Alice Lidell, the inspiration behind the story.
She spent her holidays at the family's second home in the Conwy town and Lewis Carroll - the pen-name adopted by Charles Lutwidge Dodgson - developed the story of Alice in Wonderland while visiting the Liddell home in Oxford.
It is also claimed Alice herself begged Carroll to put his story down in writing, leading to its publication in 1865.
White rabbit
As part of a drive to boost tourism, statues of characters - including a Cheshire Cat and a white rabbit - were placed in a trail around the town.
To help tourists follow the trail, an app called "Follow the white Rabbit" was supposed to launch in June.
Users should be able to point their phones at the model to activate a virtual, interactive character on screen.
The statues have been painted since the app was designed though, and it no longer recognises them.
Cllr Graham Rees, cabinet member for tourism, marketing and leisure, said: "The Alice figures needed refurbishing.
"It's obviously disappointing, but let's hope it gets resolved quickly. It's still got my full support, though."
It is understood other technical problems have also contributed to the delay, and no new launch date has been set.
Simon Burrows, co-director of Alice in Wonderland Limited, which created the app, said: "Although technical difficulties out of our control have led to a delay in the launch of the Follow the White Rabbit app, we're working hard to make sure it is available as soon as possible.
"We're excited about launching the first UK town trail of its kind in Llandudno, but with new ventures always comes challenges, one of which has been the re-painting of the various sculptures which feature around the town.
"We want to make sure the Follow the White Rabbit app is seamless before offering the experience to visitors to the area and we're currently refining the final few checks before sending the app to Apple for final approval."