Homes and business in Conwy get superfast broadband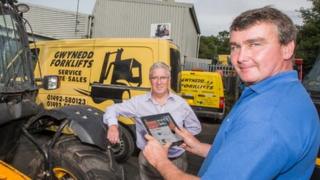 The first businesses and householders have signed up to superfast broadband in Conwy.
It is part of a move by Welshpool-based provider Xwavia which specialises in bringing faster broadband to rural and parts of Wales which are harder to reach.
The firm recently received £1.2m investment from Finance Wales.
Conwy has previously been criticised for its broadband speeds with one street being rated as the UK's slowest.
Erw Fawr in Henryd, near Conwy, had an average download speed of 0.60 megabits per second (Mbps) - 30 times slower than the UK average.
Xwavia said its work would complement BT's plans to roll out superfast broadband in Wales.
Meanwhile, Conwy is due to benefit from the UK government-funded Superfast Cymru project over the next year.
It has a target of 96% of homes and businesses receiving at least 24 megabytes per second by 2016.
GETTING UP TO SPEED IN CONWY
Average sync speed: 8.5 megabytes per second
Proportion getting less than 2MB/sec - 13.3%
Superfast broadband availability - 3.3%
Broadband take-up - 69.8% (0.10% superfast)
Source: Ofcom 2013
One business to upgrade is Conwy Morfa-based Gwynedd Forklifts, which is now updating its website on a superfast connection.
Managing director Paul Singleton said: "This is no longer an arduous process and is completed quickly and efficiently."
Janet Finch-Saunders, Aberconwy AM, said: "Access to a high-speed broadband connection should not be limited to those who live in 'hot-spot' areas and should be an accessible and affordable option for everyone."
Ofcom said the proportion of premises in Wales with superfast broadband is up from 48% to 58% in a year, compared to a UK figure of 78%.