Solar park near Pwllheli could share with sheep farm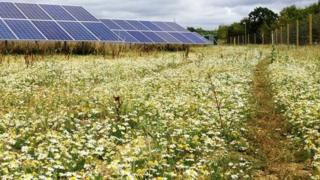 A solar farm could be created on a sheep farm in the Gwynedd countryside.
The project at Boduan near Pwllheli on the Llyn peninsula is to be explained to residents at an open evening.
Lightsource said it hopes to generate enough energy to power 2,800 homes with the 39,000 panel solar farm on 50 acres of land at Tyddyn Cae farm.
It said it wants to hear back from the community before it submits plans to Gwynedd council at the end of the month.
Developers say the panels would have a maximum height of 2.5m, while hedgerows, shrubs and trees would be planted to encourage wildlife.
"It is still early days for the proposals, which is why we are keen for local businesses, residents and wildlife enthusiasts to help shape these plans," said Conor McGuigan, planning and development director at Lightsource.
It hopes to have a decision by late November.
SOLAR FARM FACTFILE
The carbon saving will be the equivalent of emissions produced by nearly 1,100 cars
All new cabling will be buried underground so there will be no new overhead lines.
The developer said there would not be any noise beyond the site boundary, no floodlighting and a 2m-high fence would be "appropriate" to the rural setting.
Mammal gates in the fencing would allow small animals to move freely across the site undisturbed
The solar panels do not require direct sunlight to produce electricity, only daylight.
Source: Lightsource Renewable Energy
Councillor Anwen Evans, who lives nearby, said: "The community wants to know more - I'm not against it but I'm not for it at the moment because we don't know much about it to make our minds up."
The growth of solar parks has been fuelled by UK government subsidies, although these are being phased out by 2015.
Other projects are under way in Wales, with plans for 180,000 electricity-generating panels recently backed by Flintshire councillors.
On Anglesey, a 15MW site is now generating energy for the National Grid,.
Others include 46,000 panels at Cwmavon, near Port Talbot.