British Mountaineering Council blasts 'unprepared' Snowdon visitors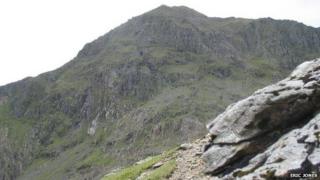 Climbers want a long-term plan to cut the number of preventable accidents on Snowdon as visitor numbers boom.
The British Mountaineering Council (BMC) said nearly half a million people visited the mountain last year and many of them were "unprepared".
It said the Snowdonia National Park Authority had tried to "engineer" the mountain to being "safe" which, it said, was impossible.
The park authority has declined to comment.
Elfyn Jones, the BMC's access and conservation officer for Wales, said: "In the last few years there has been a huge increase in the numbers of people on Snowdon - in 2013 there were 477,000 walkers, an increase of 23% on the previous year.
"Many of these visitors are unprepared casual walkers, and there has been a significant increase in the number of avoidable call-outs to rescue teams, parking problems, traffic congestion and litter.
"The current practice of managing the paths by reacting to individual problems such as landscaping and smoothing out natural obstacles has done nothing to alleviate the issues."
Mr Jones' concerns come after a coroner criticised "false paths" on Snowdon leading people "to peril".
Deputy coroner Nicola Jones said, during the inquest into the death of Dylan Rattray, 21, who fell 600 ft (180 m), the National Park Authority had a duty to address the concerns.
The park authority responded by announcing areas would be landscaped to stop people straying into dangerous areas.
'Impossible to make safe'
But Mr Jones said: "The park authority should prioritise education and awareness-raising, putting effort into ensuring the visitor is better prepared instead of treating Snowdon as if it was an urban environment and attempting to physically engineer it into being 'safe'.
"This is simply impossible."
He went on: "Snowdon poses unique and special problems for any organisation trying to manage and conserve its special qualities... it needs a vision and a funded work programme that's agreed and shared with all stakeholders to provide the resources required to protect the special qualities of this unique and often abused mountain area."