Holyhead aims to land more cruise passenger spending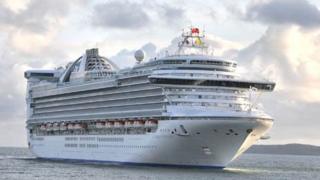 Steps are being taken to encourage the 15,000 tourists who are brought to Holyhead on cruise ships to spend more time and money in the town.
Anglesey council is organising live music and a free bus service to the town for passengers.
Visitors often use the port as a base for pre-booked trips to other locations including Snowdonia and heritage destinations like Caernarfon Castle.
The port launched itself as a cruise ship destination in 2005.
Iwan Huws, Anglesey council's principal tourism and maritime officer, said the business has been built up by years of hard work.
He said: "It takes quite a few years to attract the cruise line to come to your destination and you've got to market your destination as somewhere that passengers want to visit, so it's an attractive destination in that respect."
Passengers from around the world including the United States and Canada have visited this summer, and Anglesey council says it is hopeful that it can attract even more next year.
Anglesey council estimates about 5,000 passengers and crew have chosen to relax in and around Holyhead itself, while other go on pre-booked trips.
But says it still needs to try and encourage more of them to spend more time and money in Holyhead to boost the local economy.
'Spending'
Mr Huws said local attractions such as St Cybi's Church, Holyhead Maritime Museum and the Breakwater Country Park were among the most popular destinations.
A programme of entertainment including male voice choirs, Welsh dancers, local arts and crafts and a town crier has also been devised.
Mr Huws added: "There's an impression that cruise passengers are high-spending tourists.
"So we're working in partnership very often with the chamber of trade and the town council etc, to make sure that, for example, local businesses accept euros.
"So it's small things like that that we would encourage for businesses to benefit from cruise passengers."
He added: "Passengers have also praised the warm welcome they received from the local people in town."
The last two remaining ships of the season, the Azamara Journey and the Crystal Symphony, are due to dock in August.