Travellers leave Anglesey Show site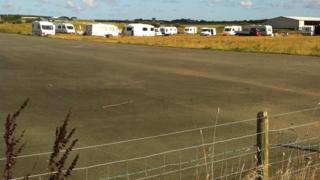 Organisers of the Anglesey Show say a group of travellers who had parked on part of the site have now left.
The travellers arrived on the Mona Industrial Estate on Thursday, just hours before the organisers of next week's show were due to prepare it for use as a park-and-ride area.
Anglesey council obtained a warrant to evict them.
The annual two-day show, which attracts 60,000 visitors, starts on Tuesday.