Legal action to move travellers from Anglesey Show site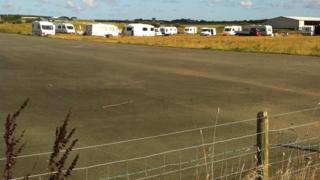 Legal action has been taken to evict a group of travellers who have moved on to one of the sites used by the Anglesey Show.
They arrived on the Mona Industrial Estate site on Thursday, hours before organisers of next week's show were due to prepare it for use as a park-and-ride area.
Anglesey council said the possession order means the site must be vacated.
The annual two-day show, which attracts 60,000 visitors, starts on Tuesday.
A council spokesperson said: "At Caernarfon County Court this morning, we were successful in obtaining a possession order and a warrant to evict travellers occupying land at Mona Industrial Estate."