Snowdonia trails not summits safety advice for families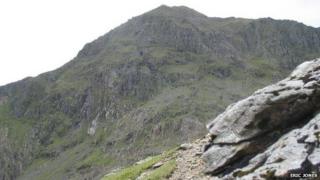 Staying off summits is the best way to keep children safe when walking in the mountains, say Snowdonia park wardens.
As tourist sites cope with the summer visitor influx, the national park authority is warning families with young children away from its peaks.
On Thursday, RAF helicopter rescuers took five people to safety after they got into difficulty in two incidents.
The park authority is also removing "false" mountain paths after a coroner said they left people at risk.
Yesterday, a RAF Sea King helicopter based at RAF Valley in Anglesey carried out two rescues in less than two hours.
The crew winched a young man and woman to safety after they took a wrong turning on Bristley Ridge, above the Ogwen Valley, and got stuck in a steep gully, unable to move up or down at about 14:45 BST.
The pair, who had blown a whistle for assistance and dialled 999, were flown to the Ogwen mountain rescue base.
At 16:30 BST, the helicopter winched a man in his 70s to safety after he had become exhausted when walking down the Rhyd Ddu path on Snowdon with his partner and granddaughter. He was flown to a car park in the valley.
MountainSafe Partnership safety advice
Prepare beforehand - take a map, compass and make sure that you take plenty of water
Dress your children and yourselves in suitable clothing - sun hat, sun cream, wet weather and warm clothes just in case.
Look at the Met Office's Mountain Area forecast for Snowdonia and do not be afraid to cancel your walk if conditions are unsuitable.
Head of wardens and access Mair Huws said: "Walking on mountains can be very challenging even in the summer and taking tired young children to a mountain summit isn't fun.
"It can result in children having very negative attitudes towards walking for the rest of their lives."
Meanwhile, wardens have started removing traces of "false paths" on Snowdon after a coroner said they can put mountain walkers at risk.
North West Wales deputy coroner Nicola Jones made the comments at last month's inquest of Dylan Rattray, 21, who fell 600ft (180m) to his death.
'Take care'
Mr Rattray, of Llanfihangel-y-Creuddyn, Ceredigion, was with friend Jack Bonner when he fell and died instantly at Clogwyn y Garnedd on 18 April.
Mr Bonner told the inquest in Caernarfon that the pair thought they were on an established path.
The park's safety warning has been echoed by John Grisdale, of Llanberis Mountain Rescue Team, which is part of the MountainSafe Partnership.
He said: "Unfortunately, recent tragic events on the mountains have shown us how important it is to take care.
"Once you decide where you're going, please remember that you need to prepare for your journey to be safe, even in summer."
The MountainSafe Partnership includes North Wales Police, Snowdonia National Park Authority and the North Wales Mountain Rescue Association.