Snowdon's perilous paths to be made safer by authority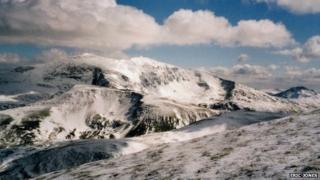 Work is under way to remove 'false paths' from Snowdon, after a coroner said they left "people in peril".
Nicola Jones said there were routes that appeared "viable" but quickly petered out.
She made the comments at the inquest of Dylan Rattray, 21, who fell 600ft (180m) to his death after following a false route.
A National Park Authority spokeswoman said areas would be landscaped to stop people straying into dangerous areas.
Mr Rattray, of Llanfihangel-y-Creuddyn, Ceredigion, was with friend Jack Bonner when he fell and died instantly in the tragedy at Clogwyn y Garnedd on 18 April.
Mr Bonner told the inquest in Caernarfon on Wednesday the pair thought they were on an established path.
The coroner said the park had a duty to address the concerns.
A spokeswoman for the park authority said she appreciated the coroner's comments and safety on the mountain was "of the utmost importance".
"Recently, direction pillars were installed on Snowdon which have been helpful to walkers who have lost their way on the mountain," she said.
"In the meantime, work is underway to remove the traces of false paths around the summit of Snowdon and discussions are underway to carry out landscaping work will encourage people not to stray into dangerous parts of the summit."