Snowdon land sale considered by farmer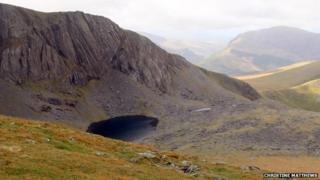 Some of the best known views on Wales' tallest mountain could soon be up for sale.
Farmer Dafydd Morris said up to 250 hectares (600 acres) of Snowdon could be up for grabs - including one of its most famous cliff faces.
He said he is fed up with critics attacking how the area is farmed - and was going to "give them a chance" to manage the land themselves.
The sale - if it goes ahead - could raise an estimated £7.5m.
The land includes a 45 hectare (112 acre) area called Cwm Arddu, which boasts the iconic cliff face and rock climbing favourite of Clogwyn Du'r Arddu.
Mr Morris said the remainder will be sold off "acre by acre" and the exact amount of land to be sold has yet to be measured.
He said: "I don't know if I will sell, but if I do I will write a book about what's been happening here.
"The reason is that a lot of people are not happy with how the farmers are farming the hills. They are complaining about the wildlife and the vegetation and everything.
"I don't mind at all if nobody wants it but I'm going to give them a chance and hopefully they will understand what it's like."
He added that he wanted the land to be used for "environmental purposes and nothing else," and not for farming.
Mr Morris said he would retain ownership of a further 600 acres.
Agents for him have created a website inviting people to "grasp the opportunity to buy a part of Snowdon".
Ownership of Snowdon is split between the National Trust, the national park authority and a private trust.
In 1998, Hollywood legend Sir Anthony Hopkins kick-stared a successful appeal to buy more than 4,000 acres of the southern flank of Snowdon with a donation of £1m.