Path led man to his death on Snowdon, inquest told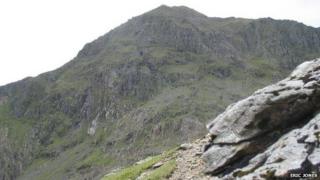 A coroner wants officials to address dangers of paths that leave "people in peril" after a man fell about 600ft (180m) to his death on Snowdon.
Dylan Rattray, 21, of Llanfihangel-y-Creuddyn, Ceredigion, suffered multiple injuries after falling while following a route which petered out.
Deputy coroner Nicola Jones said the National Park Authority had a duty to address the concerns.
Mr Rattray's death was ruled an accident.
The coroner said he would have died instantly in the tragedy at Clogwyn y Garnedd on 18 April.
Mr Rattray and friend Jack Bonner were "not foolhardy young men", the inquest at Caernarfon heard.
Ms Jones said there were paths that appeared "viable and established" but "quickly peter out and leave people in peril".
Mr Bonner told the inquest the pair thought they were on an established path.
Llanberis mountain rescue team chairman John Grisdale said the team had previously discussed issues over paths with the authority.