Four peregrine falcons found dead at Dyffryn Nantlle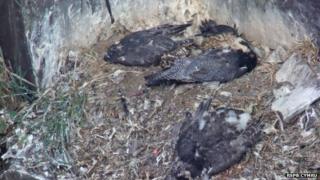 Four peregrine falcons have been found dead in their remote nest at a quarry in Gwynedd with police suspecting foul play.
One adult and three chicks which were close to fledging were discovered dead in the nest at Dyffryn Nantlle.
PC Dewi Evans from North Wales Police said: "According to the RSPB it would be highly unusual for the four to die."
The dead birds have not been recovered due to the location of the nest. They were last seen alive on 3 July.
Police and the RSPB Cymru are appealing for help to determine what happened.
Simon Hugheston-Roberts from RSPB Cymru said: "We have had a number of incidents of peregrine falcons being illegally persecuted in north Wales.
"The circumstances are highly suspicious and we are concerned that perhaps poisoned bait has been brought back to the nest by one of the parents resulting in the tragic death of all four birds."