Menai Bridge's promenade centenary marked by parade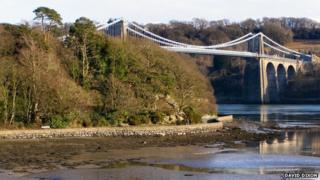 A promenade built by Belgian war refugees in an Anglesey town has had its centenary celebrated with a parade.
Menai Bridge provided a home for people who fled Mechelen in 1914 when Germany invaded Belgium in World War One.
The grateful visitors built a promenade from Carreg yr Halen to Church Island, passing below Thomas Telford's suspension bridge.
The parade was followed by a special ceremony and a concert by the Menai Bridge Town Band.
'Brighten your lives'
An old report in the North Wales Chronicle said the refugees were given "nothing short of a Royal welcome" by the townsfolk when they arrived by train in Menai Bridge in October 1914.
Mr JG Bacon, chairman of the urban district council, was quoted as telling them: "Your coming amongst us is tinged with pain, for your beloved country has been ravaged by a cruel and ruthless foe.
"Your stay in our midst will, I fear, be darkened by sad memories, and you will have many anxious moments for your homesteads, your country, and your friends.
"During this trying time we would like, as far as it is humanly possible, to lighten your burden, and to brighten your lives."
Local Anglesey county councillor Keith Evans said the centenary was a highly significant day.
"There were refugees scattered all over Britain after war broke out, and around 60 came here to Menai Bridge," he said.
"They had nothing to do and were grateful for the hospitality so they built this promenade to thank the town.
"One of the women stayed and married a local man, and their surviving daughter will be travelling from Liverpool to join the celebrations," he added.
Completed in 1916, the 400 metre promenade was rebuilt in 1963 following storm damage and erosion.
It was resurfaced in 2000 as part of a millennium project.
The parade started at the Menai Bridge Town Council offices and went to Coed Cyrnol for a ceremony, commemoration service and band performances.