Rock fall closes Great Orme road at Llandudno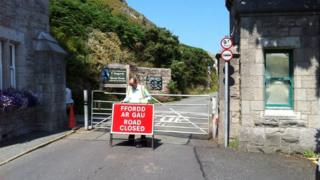 A clear-up is under way after a rock fall closed the road around Llandudno's Great Orme headland.
Four and a half tons of rock fell on to the Marine Drive toll road close to the town's West Shore which is used by thousands of tourists a year.
"Safety has to be the main priority here," said Conwy councillor Mike Priestley.
"We're doing our best to get the road reopened as quickly as possible."
He said the main task remaining is to remove loose material from the cliff and to seal the rock face to prevent further debris from falling.
"In this beautiful weather, it's important to the tourist industry that we get the road open soon, but we mustn't take any risks," said the councillor with responsibility for highways.