£11m school merger plan for Holyhead on Anglesey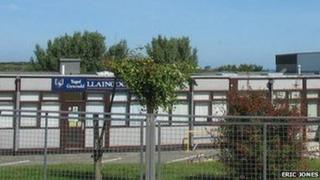 Three primary schools could merge as part of plans to cut the number of surplus places on Anglesey.
Ysgol Y Parc, Ysgol Llaingoch, and Ysgol Parchedig Thomas Ellis, all in Holyhead, could shut and be replaced by a new £11m school.
The new school at the former Ysgol Cybi site would take up to 540 children, with an additional 70 nursery spaces.
The number of surplus places in Anglesey's schools is among the highest in Wales at 17%.
A report on the plans said a single school would be more cost-effective than three separate sites.
If the plans are agreed, it would have 19 classrooms, employ 16 staff and could be run as a voluntary controlled Church in Wales school.
Construction is expected to take 18 months and the school could open in September 2016.
Parents can have their say on the plans until 27 July.