Bala's Welsh cake Guinness world record confirmed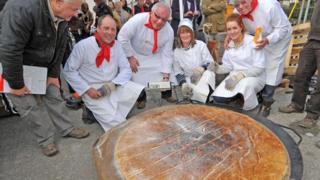 A giant Welsh cake baked in a Gwynedd town has been confirmed as the largest ever made.
Guinness World Records said the 1.5m-wide (5ft) cake, which weighed 21.7kg (48lbs), was the biggest they had seen.
It was made by four chefs in Bala on St David's Day.
Mel Williams, chair of Bala and Penllyn Tourism Association (BPTA), said: "It's a wonderful achievement and we are proud that Bala is now the home of this record."
The cake was cut into more than 200 pieces and sold, raising £800 for charity.
Guinness said the record had been approved.