Conwy council: Retiring officer's redundancy pay row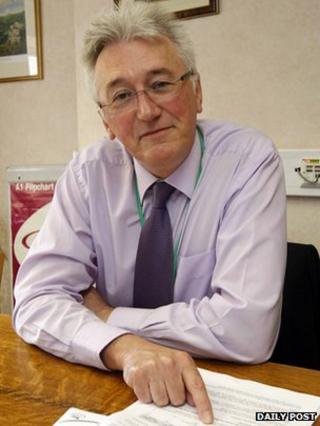 A council has been criticised for paying one its senior officers a redundancy package after he said he was going to retire.
Geraint James is the statutory head of education services at Conwy council but will step down in August.
As a result, the authority is merging education and social services to be led by a single strategic director.
But part of that move will see Mr James given redundancy payment, which the council said it took legal advice over.
It said a specialist lawyer has confirmed that it needs to treat his departure on 31 August as a redundancy.
The payment has been criticised by Aberconwy MP Guto Bebb who said the council still has questions to answer over the way it has handled the situation.
He said the council should have looked harder for ways to avoid having to make a redundancy payment.
"I think Geraint James has done an effective job in the council, but I was aware he was retiring and council documents from November last year point to the fact that he's retiring," Conservative MP Mr Bebb said.
"And yet suddenly we find that the council has decided that his position has been made redundant and they're finding a significant sum of money to compensate him for his redundancy.
"Now if someone is telling people he's retiring, if internal papers in the council are saying that somebody is retiring, I do have to question why we end up as tax payers in Conwy having to pay for somebody to be made redundant.
"I have constituents who are very concerned about the fact that the education department in Conwy has withdrawn their lollipop man from their village because there's no money available.
"And yet the council are able to find money to pay a redundancy package to somebody who - according to their own records - was going to retire.
"Even if this is a legally binding redundancy situation was he offered alternative employment or a chance to compete for a new job?"
'Redundancy situation'
Conwy council said in a statement that it "cannot comment on an individual employee's case particularly, as in this case, where the officer is still in the council's employment."
The issue was discussed at a council meeting earlier this month.
The council's chief executive, Iwan Davies, told councillors: "Reflecting on the concern of members and giving some further thought to the genuine worry as to whether this is a genuine redundancy or is it a retirement, we have sought some expert legal opinion from an employment law expert.
"He has confirmed unequivocally that this is a redundancy situation not a retirement."
He added savings from the merger would be just under £400,000 over five years.