Llyn Padarn meets 'highest' water standards says NRW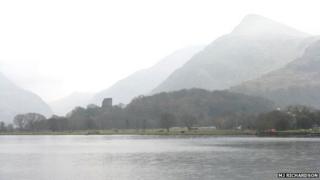 Wales' first designated freshwater bathing lake is scoring "excellent" water quality results, Natural Resources Wales (NRW) says.
Llyn Padarn, near Llanberis in Gwynedd, is popular with swimmers, anglers and watersports enthusiasts.
NRW says weekly samples since May consistently meet the highest score against new European guidelines.
It comes despite a heating oil tank leak spilling into a river feeding the lake in June.
NRW contained the leak and at the time advised people not to swim in Afon y Bala, but did not impose restrictions on the lake itself.
It is the first season Llyn Padarn has been designated as bathing water following an application by Gwynedd council.