Weather alters Snowdon race route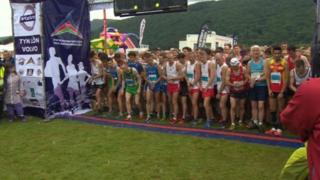 The annual race up Snowdon has had its route changed for the first time because of the bad weather.
The 650 runners did not go to the 3,560ft (1,112m) summit because of the fear of torrential thunderstorms and lightning.
The winner was Maestri Cesare of Italy with his team-mate Erik Rosaire coming second
A record number of entries were received for the 10-mile race which starts at the edge of the Padarn lake.
The race was routed via Clogwyn for the first time in its 39 years.
On Friday race organiser Stephen Edwards expressed concerns about its future, saying it was too big.
More money was needed for the race to continue growing, he said.
The first race was held in 1976 as part of Llanberis carnival and in 2015, to celebrate the 40th race, there are plans for a week-long event.
'Cash injection needed'
He added: "I've told the organising committee, if you want to raise the standard of the race, you have to have the best runners here and to attract them you need money.
"To get the money, you need sponsors and grants and myself and the committee don't have the time to look for sponsors.
"We're now competing with races which are worth tens of thousands of pounds where some runners sometimes are given £4,000-£5,000 just to stand on the starting line.
"That's without even going into the money they get for winning the races.
"We have no hope of competing with that as a small community unless we receive a cash injection to help us."