Charities win Llandudno veterans' homes cash from bank fines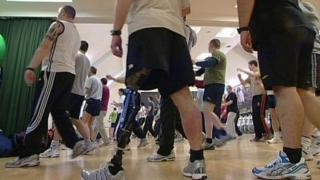 Disabled veterans' charities have welcomed the UK government's move to pay for five flats and a training unit in Llandudno for ex-service personnel.
Fines imposed on the banking industry will partly fund the £1.65m specialist accommodation.
The development is a joint bid by Blind Veterans UK and Blesma, the British Limbless Ex-Service Men's Association.
Blesma chief executive Barry Le Grys said it would allow veterans "to lead independent and fulfilling lives".
Blind Veterans UK interim chief executive Barry Porter said: "We look forward to welcoming a range of veterans to our first-class facility, where they will receive life-transforming care and support."
David Cameron announced the Llandudno, Conwy, project as one of eight across the UK.
Stable block
The funding is money raised from fines paid out by banks involved in the Libor scandal, after they were found to have altered inter-bank lending rates.
The two charities made a joint bid for £1.25m from the Armed Forces Covenant (Libor) Fund.
The money will go towards five purpose-built apartments in Llandudno for vulnerable veterans with sight and/or limb loss.
In addition to accommodation, they will receive support to prepare them for independent living.
The project involves the conversion of stable block adjacent to Blind Veterans UK's Llandudno centre.
Work is set to begin in April 2015 and is expected to take 12 months.
Blind Veterans UK estimates it will need to raise around £200,000 per year to fund the unit's operating costs.