Steam leak shuts down Wylfa nuclear plant reactor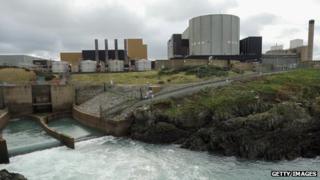 A steam leak has shut down one of the turbines at Wylfa nuclear power plant on Anglesey, the company has said.
A spokesperson for Magnox said no radioactivity had been released and the steam escape was not part of the nuclear reactor equipment.
The reactor was operating normally and was shut down following normal procedures, they added.
The power station reopened at the start of July after a five-month closure for maintenance work.
A statement on the Magnox website said: "No one has been injured, there has not been a release of radioactivity and there is no risk to staff, the public or the environment."
The nuclear reactor at Wylfa is earmarked for permanent closure later this year, unless a new extension is agreed by safety inspectors.