Diabetic Tina Challons trapped in lift for three hours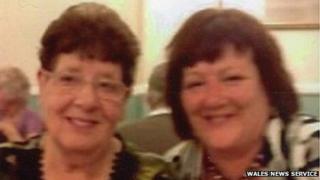 A woman with diabetes who was trapped in a lift for three hours was given biscuits through a gap in the door when her blood sugar level began to fall.
Tina Challons, 55, who had type two diabetes, was on holiday in the Bay Marine Hotel, Llandudno, when the elevator suddenly stopped.
She said: "Someone passed me some Rich Tea biscuits. I munched on them and started to feel better."
Holiday firm Shearings apologised and refunded her £300.
"I was screaming and yelling for someone to help me," said Ms Challons from Sheffield who was on holiday with her mother, Barbara, when the incident happened.
"I could feel myself getting clammy and giddy and I knew my blood sugar was low and I was in trouble.
"I told the manager how serious it was. Then I heard a packet rustling and through the gap in the lift door someone passed me some Rich Tea biscuits."
The hotel called out an engineer but he was 55 miles away and it was three hours before Ms Challons was freed.
"I am never going in a lift again," she said.
A spokesman for Shearings said: "We apologised to Mrs Challons and took immediate steps to remedy the situation. Repair work was carried out on the lift at the time."