Power station reopens after five-month closure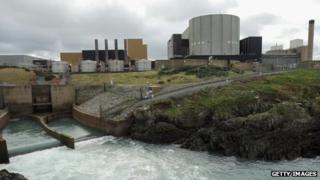 Wylfa nuclear power station on Anglesey is up and running again following a five-month closure.
Planned maintenance work saw reactor one shut down in January and the discovery of further problems delayed its restart date twice.
The work was the last scheduled to take place before the 43-year-old facility is expected to close later this year.
The Nuclear Decommissioning Authority (NDA) said its return to service was good news for the workforce.
Wylfa site director Stuart Law said the maintenance carried out would ensure the site was in a "great" condition for its final few months.
Dr Brian Burnett, from the NDA, added: "I congratulate the team at Wylfa for overcoming the recent challenges and look forward to continued safe generation at the site."
The power station is expected to continue operating until 30 September, but that could be extended to December 2015 if safety checks are passed.
A second reactor at Wylfa was shut down in April 2012.
Horizon Nuclear Power wants to build a new £8bn nuclear power station using advanced water boiling reactors next to the Magnox site.