Non-Welsh speakers could face action says Gwynedd council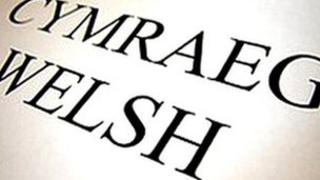 Disciplinary action could be taken against council leisure centre staff who do not greet customers in Welsh.
A report for Gwynedd council's language committee provides an update on a "language champions scheme" and the use of Welsh at leisure centres in Bangor, Tywyn and Dolgellau.
It says some staff lacked confidence or were reluctant to use Welsh.
Cllr Louise Hughes, from Llanegryn, near Tywyn, said: "You cannot force people into how they speak".
The report concentrates on the language champions scheme in leisure centres in Welsh-speaking areas.
It says the "situation has improved at the Bangor and Tywyn Centres," adding that "11 out of the 30 members of staff at Bangor were attending lessons and attempting to speak more Welsh, and it is reported that more Welsh is also being spoken at the Tywyn centre, where the manager can now follow the discussion through the medium of Welsh at meetings".
It says "problems continue" at Dolgellau Leisure Centre where "some members of staff lack confidence or are reluctant to use the Welsh language, despite efforts to persuade them to at least greet customers in Welsh".
It adds: "The department is continuing to press on staff who are reluctant to use the Welsh language, and consideration will be given to disciplinary measures in some circumstances."
A council spokesman said no action had yet been taken and the local authority was trying to comply with legislation passed in 2011 which states people living in Wales should be able to live their lives through the medium of Welsh if they choose.
Louise Hughes, an independent councillor in Llanegryn, said: "I'm reminded of the situation when they insisted that a seasonal litter-picker should speak Welsh, which led to the beach at Aberdyfi being un-swept for two years.
"My Welsh is reasonable but some who are not fluent are made to feel second class."
She added: "We now live in a multi-cultural society. Things cannot be preserved in aspic and you cannot force people into how they speak."