Police failures partly blamed for Hywel Hughes' custody death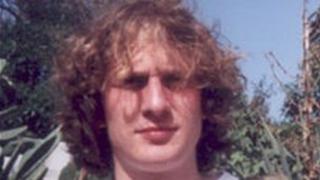 The death of a man in police custody after he was ejected from a Bangor nightclub in 2003 was partly due to failures by two police officers who arrested him, an inquest has concluded.
Hywel Llewelyn Hughes, 32, died of traumatic asphyxia at hospital in Bangor in May 2003 after his arrest.
He was thrown out of a club and sat on by doormen while waiting for police to arrive, the Caernarfon inquest heard.
The jury decided the police who arrived did not take appropriate action.
After the hearing Mr Hughes's sister Catherine said the two police officers' actions on the night were a "disgrace".
Both officers had previously been charged with wilful misconduct in public office but the judge decided there was no case to answer. They were also subject to internal disciplinary proceedings but cleared.
The inquest jury had been told that Mr Hughes had been ejected from the Joop nightclub after an incident, and two doormen had sat on him for six minutes while they waited for police.
Two police officers, Sgt Robert Hind and PC Emma Lovegreen, now Sgt Williams, put Mr Hughes in a police car and drove him to Caernarfon police station, stopping on the way to reposition him.
When they arrived they realised he had no heartbeat and an ambulance was called.
He was taken to hospital where he died despite attempts to revive him.
Police car
The jury was asked by the coroner to answer a string of questions about the events which led to Mr Hughes's death.
These included whether the officers had taken "appropriate action" when they arrived at the nightclub to which the jury replied: "No."
Asked to identify relevant factors, the jury concluded:
The officers failed to assess Mr Hughes at the scene
Failed to put him in the recovery position
Failed to administer immediate first aid
Failed to summon an ambulance or take him to hospital
Failed to place him in a police car in a position where his airways remained open
The jury was asked: "Is it more probable than not that any of these factors more than minimally contributed to the death" to which they answered: "Yes."
The jury also said the officers failed to take appropriate action when stopping en route to the police station that night.
Failures at this point included failing to assess Mr Hughes, put him in the recovery position or administer first aid.
Again asked whether it was more probable than not that any of these factors had more than minimally contributed to the death, the jury answered: "Yes."
The doormen were cleared of manslaughter at a trial in 2005 and the coroner had said the inquest would focus on police action.
'Sincere condolences'
Mr Hughes's sister said: "I believe the doormen's acquittal for manslaughter was a miscarriage of justice.
"This inquest has however also shown that my brother was failed hugely by the police officers who should have helped him. Their actions on that night were a disgrace."
The family said in a statement the officers had "failed to carry out any basic assessment of his condition and assumed he was just drunk" when he was actually "deeply unconscious".
North Wales Deputy Chief Constable Gareth Pritchard said: "I hope Mr Hughes's family feel they have had the opportunity to hear the full facts and, once again, may I offer sincere condolences for their loss.
"Mr Hughes's untimely death took place over 11 years ago and since then the force has undertaken a review of procedures and introduced a number of improvements."