Anglesey's Wylfa B Japan trip criticised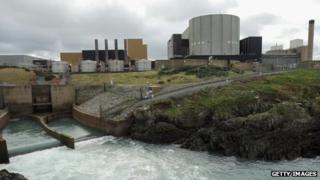 Campaigners have criticised Anglesey council for spending taxpayers' money on sending a delegation to Japan to build relationships with the firm behind the new Wylfa B power station.
The trip has been organised to build relationships with Horizon Nuclear Power.
But objectors claim the cost cannot be justified at a time when public services are being cut.
The council said the trip's cost was negligible compared to the investment.
Horizon Nuclear Power want to put what are known as Advanced Boiling Water Reactors next to the existing and ageing Magnox plant.
The deputation flying to Japan on Saturday, includes Anglesey's MP Albert Owen, its AM Rhun ap Iorwerth and three members of the council - head of economic community and regeneration Dylan Williams, the director of Anglesey Energy Island Programme Dr John Idris Jones and council leader Ieuan Williams.
Horizon Nuclear Power's parent company, Hitachi, is said to be paying for Mr Owen and Mr ap Iorwerth, but the council is covering the costs of the trip for the other three people.
Explaining the purpose of the visit, council leader Mr Williams said: "This is a unique opportunity to better understand the opportunities and challenges associated with the proposed new nuclear build at Wylfa.
"The proposed Wylfa Newydd project represents a multi-billion pound investment on Anglesey and it's vital that we establish closer working relationships with senior Hitachi and Hitachi-GE representatives.
'Great strain'
"We'll be putting forward a strong case for Anglesey and Wales, promoting Welsh skills and discussing the vast potential for local job creation and supply chain benefits as part of Wylfa Newydd."
In a statement, People Against Wylfa B (Pawb) said: "Ynys Môn council tax payers are paying for their return flights and all expenses incurred during the five-day visit.
"This happens during a period of savage cuts to the council budget with services under great strain."
In response, the council said the cost of the trip was negligible compared to the size of the investment coming from Hitachi. It said that this could end up being billions of pounds.
The news comes as it emerged this week that Wylfa had been closed for more than five months.
Reactor one was shut down on 6 January for maintenance work and the discovery of further problems has delayed re-starting the station twice.
It will continue to produce energy until the 30 September, with a possible extension to December 2015 if safety checks can be passed.