Inquest into Hywel Hughes' police custody death in 2003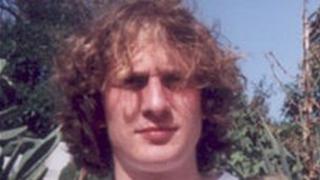 An inquest has begun into the death of a man in police custody 11 years ago which happened after he was ejected from a nightclub in Bangor.
Hywel Llewelyn Hughes, 32, died at Ysbyty Gwynedd in Bangor in May 2003.
The inquest jury at Caernarfon saw video footage of two doormen sitting on Mr Hughes for six minutes outside the Joop nightclub before police arrived.
The men were cleared of manslaughter at a trial in 2005. The coroner said the inquest would focus on police action.
The jury heard Mr Hughes had been thrown out of the nightclub following an incident and the two door man, Colin Parry and Rhodri Thomas, had sat on him while they waited for police to arrive.
Two police officers, Sgt Robert Hind and PC Emma Lovegreen, now Sgt Williams, put Mr Hughes in a police car and drove him to Caernarfon police station, stopping en route to reposition him.
On arrival they noticed Mr Hughes was "not well at all", with no heartbeat, and an ambulance was called.
He was taken to hospital where he died despite attempts to revive him.
'Extremely regrettable'
Assistant coroner Karon Monaghan QC explained that as the doormen had been tried for manslaughter at Mold Crown Court in 2005 and acquitted it was "not necessary for us to consider their role in the death".
The officers were charged with wilful misconduct in public office but the judge decided there was no case to answer.
They were also subject to internal disciplinary proceedings but cleared.
The coroner told the jury not to infer anything from the fact that the officers had faced legal and disciplinary charges.
"The only reason for telling you about them is that they may be referred to during the course of the inquest," she said.
Referring to the lengthy delay in holding an inquest, the coroner said it was "extremely regrettable" and was partly down to legal reasons and partly administrative ones.
The inquest continues.