Razor clam harvesting worries at Llanfairfechan beach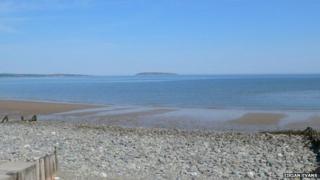 Concerns have been raised that gangs of people are harvesting shellfish on a Conwy beach.
Conwy council said it had received reports of razor clams being gathered at Llanfairfechan beach in recent days.
Last year the council seized equipment and clams amid scenes of over 100 people collecting the shellfish.
The beach is not a designated commercial harvesting area, and people are only allowed to collect a small amount for private use.
Business enforcement manager Matthew Frankcom said: "It would be illegal under food safety legislation for the razor clams to be harvested for commercial human consumption.
"Officers from Conwy County Borough Council visited the area yesterday morning, and found no evidence that any commercial activity was taking place, but will continue to work with the relevant enforcement agencies to investigate any future reports."
In August 2013, over 100 people were photographed gathering the clams at Llanfairfechan.
Officers took possession of some of the equipment on the basis they suspected the shellfish were being commercially gathered.