Padarn Bus inquiry: Police arrest two more people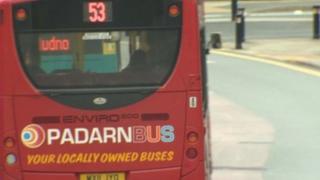 Two more people have been arrested as part of an ongoing fraud investigation at a failed Gwynedd bus operator.
Padarn Bus went into voluntary liquidation at the end of May after a man aged 44, and a women, 28, were questioned by North Wales Police.
In the latest development, a 53-year-old man and a woman, 62, have been arrested and released on police bail.
The bus company made more than 80 staff redundant, with councils left to find replacement route operators.
Padarn Bus provided routes across north Gwynedd, around Bangor and Caernarfon, and also several services on Anglesey.
It also held the contracts to run a number of school bus services.
Most of the bus routes have since been taken over by other operators, though some have seen restricted timetables put in place.