Ice may have caused Caernarfon plane crash which killed man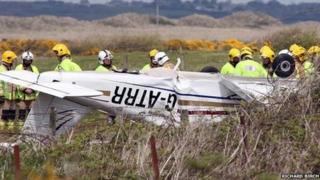 A plane crash at Caernarfon airport, in which a passenger was killed, may have been caused by ice in the engine, a report has said.
Iain Nuttall, 37, from Blackburn, died when the Piper Cherokee flown by his father lost power and hit a tree at the airfield in May 2013.
The Air Accident Investigations Branch (AAIB) said Mr Nuttall might not have been wearing his seatbelt at the time.
Its investigation did not find any mechanical faults with the engine.
Pilot John Nuttall, 61, hired the four-seater plane at Blackpool Airport and took off at 10:30 on 19 May with son Iain and grandson Daniel, five, on board.
Witnesses at Caernarfon told investigators the plane was flying very low, slowly and was making spluttering noises before hitting a tree.
It crashed nose down just inside the airfield boundary, killing Iain Nuttall.
His father and son survived, but both were taken to hospital with serious injuries.
Pilot Mr Nuttall had held a licence since 2006 and was familiar with the route. The report said the weather conditions were suitable for the flight.
But investigators said conditions meant ice could have interfered with the plane's carburettor.
"The investigation did not find any evidence of a failure within the engine but the atmospheric conditions were conducive to carburettor icing," the report said.
The report also stressed the importance of wearing a seatbelt, given Mr Nuttall and his grandson survived.