Incoming phone lines restored at Ysbyty Gwynedd, Bangor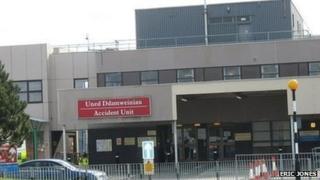 A hospital which cancelled 20 planned operations when its phone system was damaged in a storm, says all incoming lines are now working.
Some staff at Ysbyty Gwynedd in Bangor are unable to make external calls, but a spokeswoman said they hoped the problem would be fixed on Monday, and no more cancellations are planned.
The problem is thought to have been caused by lightning on Saturday.
The hospital expects operations to run as normal on Tuesday.
It is thought lightning struck the main external mast on Saturday. It was also reported that lightning went through an open window, leaving a worker with a minor injury.
While 20 planned operations were cancelled, people attending out-patient clinics were also warned about possible delays on Monday.
One of the lines hit affected patients trying to book outpatient appointments.
Earlier on Monday, a spokesperson for the Betsi Cadwaladr University Health Board said: "We would like to thank all staff for their hard work and commitment over the weekend which has kept patients and services safe."