Harlech pool group gets £135,000 to run leisure centre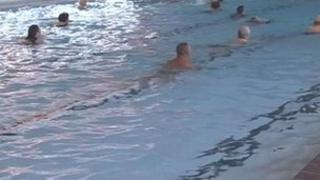 A community group is being given £135,000 by Gwynedd council over the next three years to help it run one of its former swimming pools.
Volunteers took over Harlech Swimming Pool in 2010 by setting up a trust.
But they have had to ask the authority for support, saying the economic climate and visitor numbers were the reasons.
The funding will be tapered over a three-year period and dependent on reviews.
Councillor Paul Thomas, the healthy Gwynedd cabinet member, said: "The ambition and enthusiasm of the dedicated team of local residents who work tirelessly towards their goal is something to be applauded.
"Indeed, they have built on the resources available at the centre and added a new climbing wall to the facilities available.
"However, despite the efforts of the local volunteers, the business case to run the enterprise continues to be challenging."
The funding for the not-for-profit Harlech and Ardudwy Leisure company is set at £60,000 in 2014-15, with £45,000 in 2015-16 and £30,000 in 2016-17.