Royal Welch museum faces closure unless funded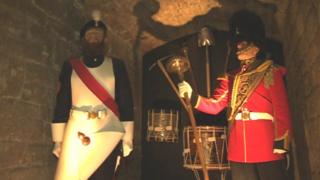 A museum charting the history of the Royal Welch Fusiliers (RWF) says Welsh government funding delays could force it to close.
Trustees of the RWF Museum at Caernarfon Castle say they have not received funding since February.
The museum said it was waiting for the Welsh government to sign off a deal with the heritage body, Cadw.
Cadw says it hopes to resolve the issue "very shortly".
At one point on Monday, a statement appeared on the museum's website stating it had taken the decision to close "temporarily" while the funding issue was resolved.
However, BBC Wales has been told that the museum will still be open on Tuesday and the funding negotiations are continuing.
Lt Gen Jonathan Riley, chairman of the museum, said the attraction would remain open for "at least another week".
But he added: "Beyond a fortnight - I couldn't say. We are digging into our own reserves to keep it open."
The museum chairman said this was not a dispute with Cadw, and a 10-year funding plan had been agreed.
However, that agreement must still be signed off by the Welsh government.
The museum charts the 300-year history of the Royal Welch Fusiliers, dating back to William III.
The regiment was one of the three Welsh infantry regiments to be merged in 2006 to form The Royal Welsh, though the name lives on as the infantry are known as 1st Battalion The Royal Welsh (The Royal Welch Fusiliers).
In a statement, a spokesperson for Cadw said: "We are in contact with the Museum's Trustees on this matter and we expect to resolve matters very shortly.
"We value our long and positive relationship with the Royal Welsh Fusiliers Museum at Caernarfon Castle. We are working with the Museum to agree a new joint working agreement covering visitor access to the museum and educational services."