84 jobs to go as Padarn Bus in Gwynedd closes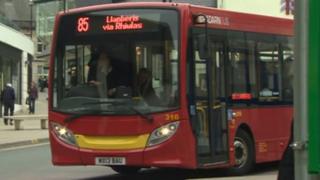 A Gwynedd bus firm is to close due to 'financial issues' with the loss of 84 jobs.
Padarn Bus, which runs operates routes from Bangor, Caernarfon, Llanberis and to Beaumaris on Anglesey, said services would cease at midnight on Friday.
The announcement comes a day after a man, 44, and a women, 28 were arrested following allegations of fraud at the company.
Alternative transport has been organised on Anglesey.
A spokesman for the family-run firm, which runs several school services in the county, said the closure was as a result of losing contracts following the announcement of the police inquiry.
Driver William Freeman, who has worked with the firm for six years, said workers were told the news as they turned up for their shifts early on Friday morning.
"We have no idea what happens next, no one has explained anything properly to us because nobody knows anything.
"There's 80 of us and no one knows where we are going to go from here onwards.
"Things are not very good at the moment."
Mr Freeman said some services had been disrupted on Friday morning as some drivers chose not to carry on working.
He and others who are on the road have been advised to tell passengers "as from tonight there is no Padarn", he said.
'Financial issues'
Insolvency firm Baker Tilly said Padarn Bus directors had instructed them to place the company into creditors' voluntary liquidation.
"Throughout the past month the directors together with their advisers have been working closely with all stakeholders including the councils, Finance Wales and the Welsh government to try and find a way to preserve the business, but despite their best efforts this was, ultimately, not possible," a spokesman said.
The Welsh government said on Thursday that it would work with Gwynedd council to minimise any disruption to passengers from any service withdrawals by the company.
Gwynedd council said it was looking for firms to run alternative services and its first priority was to ensure school transport would be provided from Monday.
Information about replacement services will be published on the council's website.
Alternative transport on Anglesey will be provided by Arriva Buses Wales, Gwynfor Coaches and O R Jones Llanfaethlu.
There will be with no changes to bus timetables on Anglesey services and the new operators will accept Padarn Bus season tickets.
Finance Wales, which backs small and medium business in Wales, confirmed it invested in Padarn Bus, but said it could not comment on the details of its investments.
Padarn Bus, set up 25 years ago, is one of the largest bus operators in the county and runs local bus services, school coaches as well as private hire vehicles.
The company also runs the popular Snowdon Sherpa bus routes linking villages around some of the most popular tourist walks around Snowdon.