Anwen Wynne died after Caesarean, Llangefni inquest hears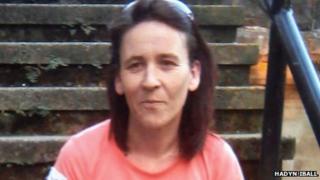 A mother from Anglesey died from severe blood loss after having a Caesarean section, an inquest has heard.
Anwen Wynne, 39, of Llangefni, died at Ysbyty Gwynedd hospital in Bangor in July 2013.
Hospital staff told the inquest she started bleeding after the Caesarean and they were unable to stop it.
She had a hysterectomy and was given clotting medication, but suffered a cardiac arrest. A verdict of natural causes was recorded.
North West Wales Senior Coroner Dewi Pritchard Jones said there was no suggestion of a medical mishap.
He told the inquest in Llangefni that for "a reason that can't be ascertained" modern medical science had been unable to prevent her death.
He added that it was an "extremely rare event" and there was "no obvious explanation" why drugs and other procedures did not work.
The inquest was told that in a three-year period only nine women in the UK had died in childbirth.
Ms Wynne, who had three older daughters, gave birth to a boy who is reported to be doing well.