Tourism worth £256m to Anglesey economy in 2013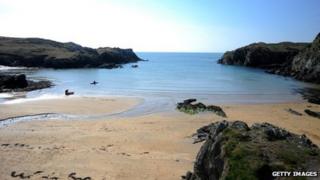 Tourism boosted the Anglesey economy by £256m last year thanks to an influx of extra visitors, new figures show.
That figure was 4% up on the previous year bringing in an extra £10.8m, the STEAM tourism research programme found.
Visitor numbers on the island passed the 1.5 million mark in 2013 and the number of people employed in the tourist industry has also increased.
The study said the fine summer weather was a key factor in the success of the 2013 season.
Tourist spending went up across all sectors, including accommodation and food and drink, and there are now 4,043 jobs linked to tourism on Anglesey - an increase of 131 on 2012.
Councillor Aled Morris Jones, cabinet member for tourism, said the island's stunning coastline and rich culture and heritage meant it had much to offer.
"These figures once again emphasise tourism's importance to the island and should be welcomed both in terms of the tourism industry and local economy," he said.
"We're committed to building on this success and will continue to work closely with all sectors of the industry to ensure an even better summer this year."
STEAM is a model used by local authorities in Wales to measure tourism, which counts the number of visitors and how much they spend in an area.