Llandudno organ to have 1,767 pipes played in an hour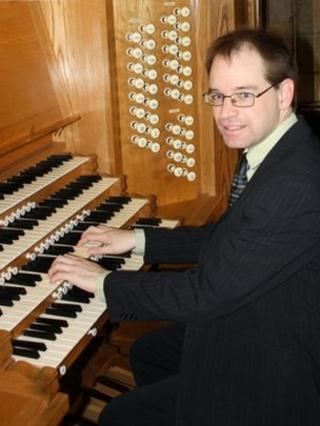 A composer has set himself the challenge of playing every one of the 1,767 pipes in a church organ in an hour.
John Hosking has found pieces of music which include all the sounds from each pipe at St Paul's Church, Llandudno.
"It's not as easy as it might seem," said Mr Hosking.
The 104-year-old organ is capable of playing notes so high in pitch that they cannot actually be heard by some people.
Mr Hosking, the assistant director of music at St Asaph Cathedral in Denbighshire, has been playing the Grade II-listed organ since he was a child.
"The reason the organ at St Paul's Church has so many pipes is because it has lots of different sound settings," he said.
"Some of them are designed to sound like brass instruments, others like flutes or oboes.
"The real challenge is finding the music which will enable me to use such a variety of notes and sounds in just one evening.
"It will mean playing a selection of music from Bach to Mendelssohn and a piece called the Thalben-Ball Elegy where the organ builds up from nothing to a massive volume, before fading away to nothing again."
The recital and talk at 19:00 BST will be followed by a series of Sunday afternoon concerts to raise money for £150,000 of restoration work.
Deborah Haigh-Roberts, the church's director of music, said: "The idea came about because one of the choir asked whether all of the pipes in the organ actually got used, or if they were just there for show.
"When we got talking to John Hosking, he thought it would be an interesting challenge to see if they could all be used in the space of an hour.
"We've joked with John that if some of the pipes on the organ can't actually be heard by the human ear, we'll need to ask for scientific proof that they've actually been played"