The Beano features Tu Hwnt I'r Bont Tearoom in hunt for Gnasher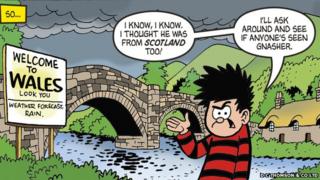 A well known north Wales landmark has been featured in the legendary children's comic, the Beano.
Dennis the Menace is shown outside Tu Hwnt I'r Bont Tearoom and the historic Inigo Jones Bridge in Llanrwst, Conwy.
Tearoom owner Tim Maddox, 48, said he was delighted as he read the comic, which celebrated its 75th anniversary last year, as a child.
The Beano said Dennis was in Llanrwst hunting for his missing pet dog Gnasher.
Earlier this year, Gnasher disappeared following the discovery that a rare dinosaur bone had gone missing from the National Museum of Scotland, according to the comic.
The dinosaur thigh bone disappeared from the museum during a visit by Dennis and his family and the museum's CCTV footage showed an unusually bristly animal removing the bone from its stand before making off with it.
Dennis scoured the UK in search of his four-legged friend and on the 12 April strip, Dennis visited Llanrwst following a tip-off that Gnasher had been spotted in north Wales.
Nigel Parkinson, who illustrates the Dennis the Menace and Gnasher strip, said: "I spent many happy holidays in north Wales in my childhood and wanted to recreate those days."
The Beano's editor Craig Graham said: "We're delighted Tu Hwnt I'r Bont was spotted in The Beano.
'Subtle tribute'
"Our readers have very sharp eyes, so we love to put in little extra things for them to find. The Beano has always celebrated the best of British, so it was only natural for us to pay a subtle tribute."
Tu Hwnt I'r Bont Tearoom owner Mr Maddox said a follower on Twitter tweeted to say his tearoom was in the comic.
"We are very, very fortunate we live in one of the most photographed areas of Wales and the UK," added the married father-of-three.
"Last year we featured in the Guardian, the Daily Mail, the Metro and the Evening Standard because it's an attractive building in a beautiful area.
"We have a Virginia creeper growing on the tearoom and it goes a vivid red in September, so we're used to people photographing us and featuring us in magazines and newspapers."
The first issue of the comic was released on 30 July 1938.