Belmont Hotel, Llandudno: Specialist holiday venue to shut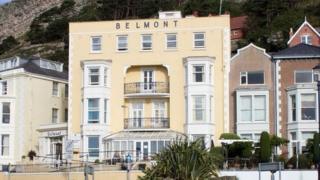 A specialist seaside hotel in north Wales providing holidays for blind and partially-sighted people is set to close.
The 27-bedroom Belmont Hotel in Llandudno is believed to be the only one of its kind in Wales and is one of a small number in the UK.
Its owner, the Royal Blind Society (RBS), said it was a very difficult decision to put it on sale.
But it said few of its rooms are used and it cannot afford to keep it open.
The society said the sale of the Belmont and another similar hotel, the Bradbury in west Sussex, reflected a trend where blind people could increasingly go on "mainstream" holidays as venues improve their accessibility.
According to the charity, just one-in-ten of the hotel rooms are being used.
But one guest, Paul Kiddy, is disappointed by the looming closure and said he would not feel able to go on holiday independently without the help of friends and family.
"I think it's a real, real shame," said Mr Kiddy, 42, of Derbyshire, who has severely impaired sight following a car crash seven years ago.
"The staff are excellent and they provide all the facilities that sight-impaired people need. I feel really comfortable staying here, whereas I would have not been able to go to a normal hotel.
"It's really important for sight-impaired people to feel they have that independence. I've brought six other people from a visual impairment group and they are planning to come back independently."
'Special place'
Both hotels have now gone on the market and the society said whoever purchased them could convert them for other uses.
The Belmont has been open to blind guests for more than 20 years and was taken over by the RBS in 2002.
RBS chief executive Eileen Harding said: "This was an extremely hard decision to make.
"Everyone at the Royal Blind Society understands that the hotels are a special place for many guests. And that the Royal Blind Society staff have been central to that."
The society said it will use the money raised to offer more support to blind and partially-sighted children and young people and their families across the country.