Craft beer boost from Welsh Highland Railway festival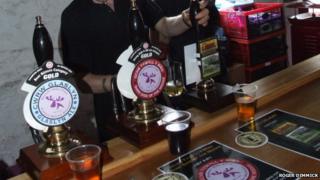 Small breweries in Wales are helping keep pubs alive claim supporters joining forces for a heritage railway's real ale festival.
Around 50 brewers are taking part in the Welsh Highland Railway's 10th annual celebration of local beer.
Real ale campaigners claim demand for specialist craft beers has helped small breweries survive hard times.
Welsh Secretary David Jones will officially open the festival by driving a train from Caernarfon to Dinas.
"He's been on the footplate of our locomotives on many occasions - it's great to have the support of leading politicians," said railway spokesman Andrew Thomas.
He added: "It's got bigger every year, and it's become more of a local festival for the whole area than just a railway event."
Eryl Morris, Gwynedd chairman for the Campaign for Real Ale (Camra), who has helped organise the festival, says it attracts more than 2,000 people and is vital to the local economy and the growing craft beer industry in Wales.
"It's very important - the biggest beer show in north Wales," he said.
"There was only one microbrewery in Gwynedd when we first started getting involved in the festival - now there are six, and about seven others along the north Wales coast."
Mr Morris said small-scale breweries in the region ranged in size from those employing just one or two people to others with as many as 15 staff.
Although most small breweries made their living through barrel sales to local pubs, he said the festival was an important showcase for them to display their full range to keen customers.
'On the brink'
Craft beers were providing a lifeline to a hard-pressed pub trade, Mr Morris said.
"It's very quiet in most pubs around here apart from the weekend.
"There's a few closed in the last six months and a few teetering on the brink.
"The ones that are doing OK are the free houses, who can sell what they want and aren't tied to the big brewers.
"With as many as 60 or 70 microbreweries now operating across Wales, there seem to be more now than before the economic downturn."
The goods shed at Dinas station will be turned into the main bar and music venue for the weekend's festivities.
Meanwhile, special shuttle trains will be running until midnight to allow revellers to visit pubs on the route between Caernarfon and Waunfawr.