Residents moved from Abergele home after neglect report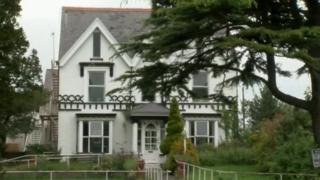 Some residents have been moved from a care home for the elderly in Abergele after inspectors found evidence of neglect and poor conditions.
It comes after the Care Social Services Inspectorate Wales (CSSIW) sent inspectors to Amber House in December.
Conwy council confirmed some residents have been moved following a review of their care needs and that investigations are continuing.
The owner said action was being taken to respond positively to the report.
The CSSIW says it still has concerns after returning for a follow-up inspection in March to see whether improvements had been made.
In a statement, it said: "We are not satisfied that progress is being achieved and a draft inspection report has been sent to the provider for comment prior to publication.
"We are working with Conwy council to ensure that the care and safety of residents at the home is safeguarded."
The CSSIW report from December's visit demanded the private home owners take action, saying:
The care regime was not person centred, and residents generally looked unclean and unkempt, with food debris around their mouths and some cases of torn clothes
There was a strong odour of urine because continence was not managed effectively
Care plans were also found to be be lacking in detail and staff did not follow the care plan in respect of one person and their meals
The home was generally unclean and three beds which had been made up by staff were stained with faeces
Carpets, bed linen and crockery were also found to be unclean and of poor quality
Proper training had been given to staff at the home, but it was found that they did not always implement the knowledge
The report also raised concerns over the way medication was given
'Supplement staffing levels'
The registered manager at the time resigned two weeks after the inspection.
A North Wales Police spokesperson said: "We are aware of the CSSIW report and are currently considering its content."
Owner Bernice Jaumotte said: "We have had a challenging period at Amber House and have taken every step within our means to respond positively to the last care standards report.
"Just recently, we have received a further inspection - which is standard - and we are hopeful of receiving a more positive response from the inspectors very shortly."
A spokeswoman for Conwy Council said they moved some residents from Amber House following a review of their care needs.
She said: "We have deployed our own employees to the premises to supplement staffing levels and we're reviewing all the residents to consider alternative placements if needed.
"As investigations are ongoing it would be inappropriate to comment further at this time."