Washed-up timber could be from 1899 ship wreck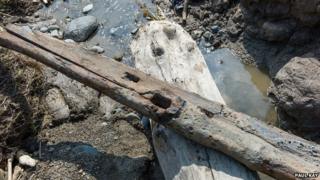 Timber found on a Gwynedd beach may have spent a century on the seabed before being washed ashore by storms.
It could be from a small sailing ship wreck dating back to 1899.
Paul Kay from the Marine Conservation Society and Chris Holden, who writes about north Wales coast wrecks, made the find on Porth Neigwl, near Abersoch.
They think it may be from the nearby wreck of the "Rob the Ranter" which can sometimes be seen at very low tides.
"We found two pieces of large tropical hardwood," said Mr Kay.
"One had various holes drilled in it and despite being in relatively good condition, it showed traces of concretion - that's when material is bonded onto artefacts on the seabed - so had been underwater for a very long time.
"If, as we suspect, they are from the Rob the Ranter, then they've been on the seabed for well over a century."
Several small sailing ships were wrecked in the area close to where the timber was found - known as Hell's Mouth - from the 1880s up to first decade of the 20th Century and the remains of Rob the Ranter lies in shallow water just a couple of hundred metres away from where the timbers were found.
"I think it was the very, very severe weather we experienced, first to uncover it from the seabed and then to dump it on the shoreline," added Mr Kay.