Dog stuck on Cadair Idris overnight after 130m fall rescued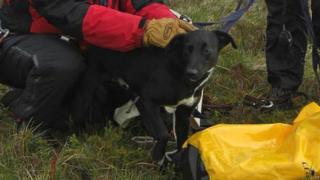 A dog which fell 130m (425ft) off a cliff on a Snowdonia peak and was trapped overnight has been reunited with his owners by a rescue team.
The Labrador-cross called Taz dropped down a gully on the south ridge of Cadair Idris after his owners let him off his lead.
They heard whimpering and called Aberdyfi mountain rescue, who spotted the dog just as darkness was falling.
The team had to wait until morning to hoist the uninjured dog up to safety.
They took a crag rescue kit back up the mountain in the morning and lowered two people down to the ledge where Taz had fallen.
After sending the message "Taz has just eaten a biscuit", the pair put the dog into a canvas bag and the whole party was lifted back to the top.
Aberdyfi rescuer Graham O'Hanlon said: "A quick examination of one very happy dog showed no more than a few bumps and scrapes. Taz was able to walk down the mountain unassisted, to be reunited with his equally happy owners."